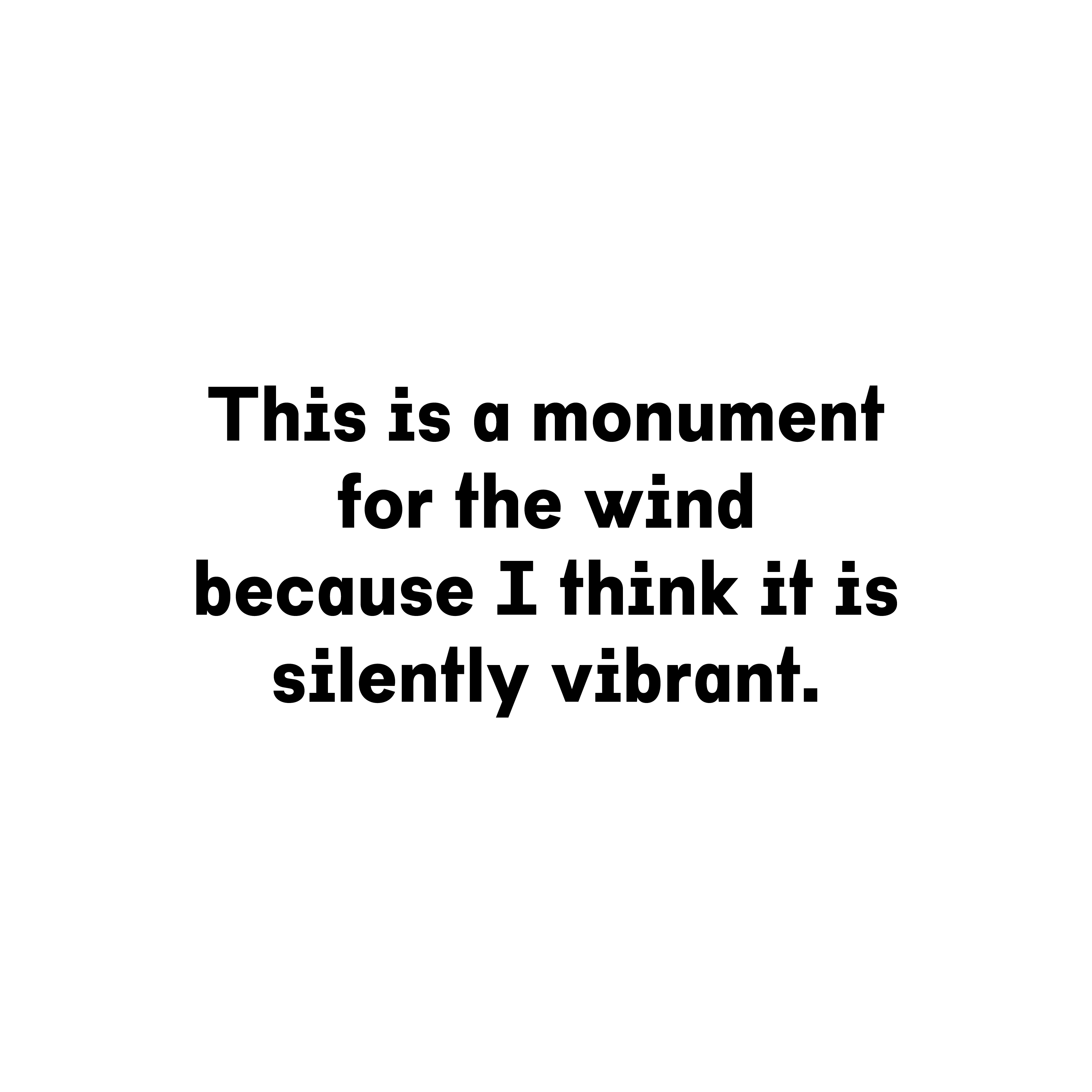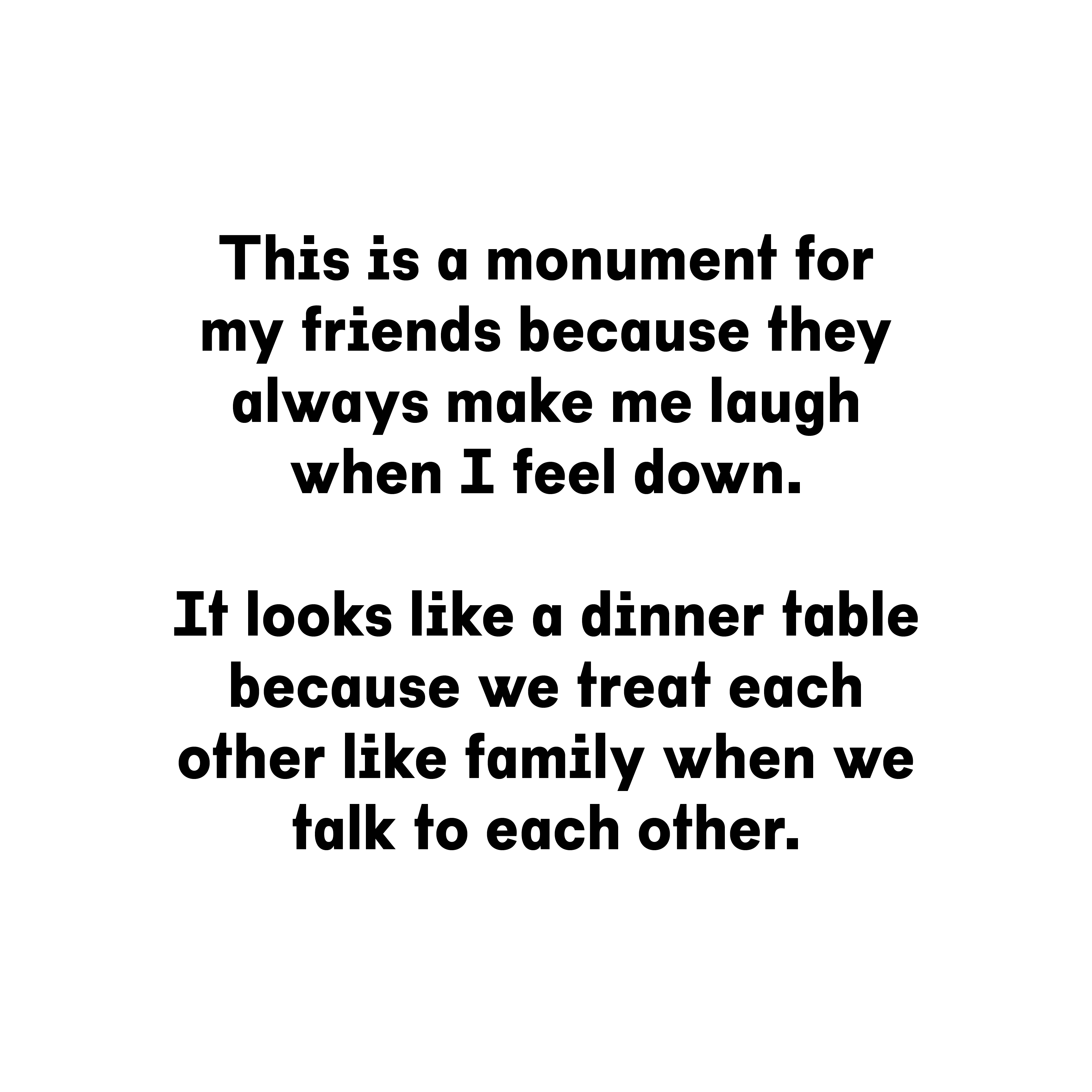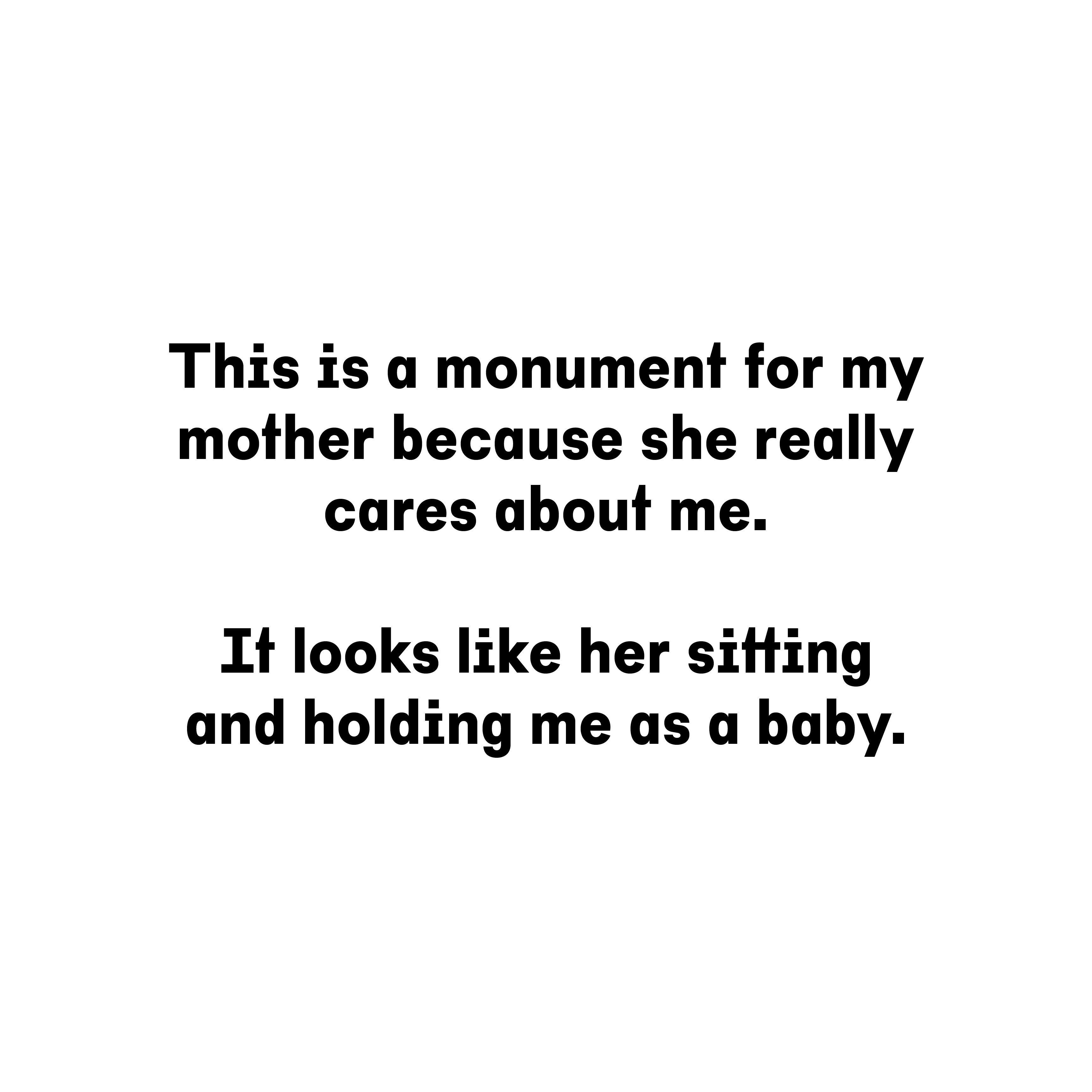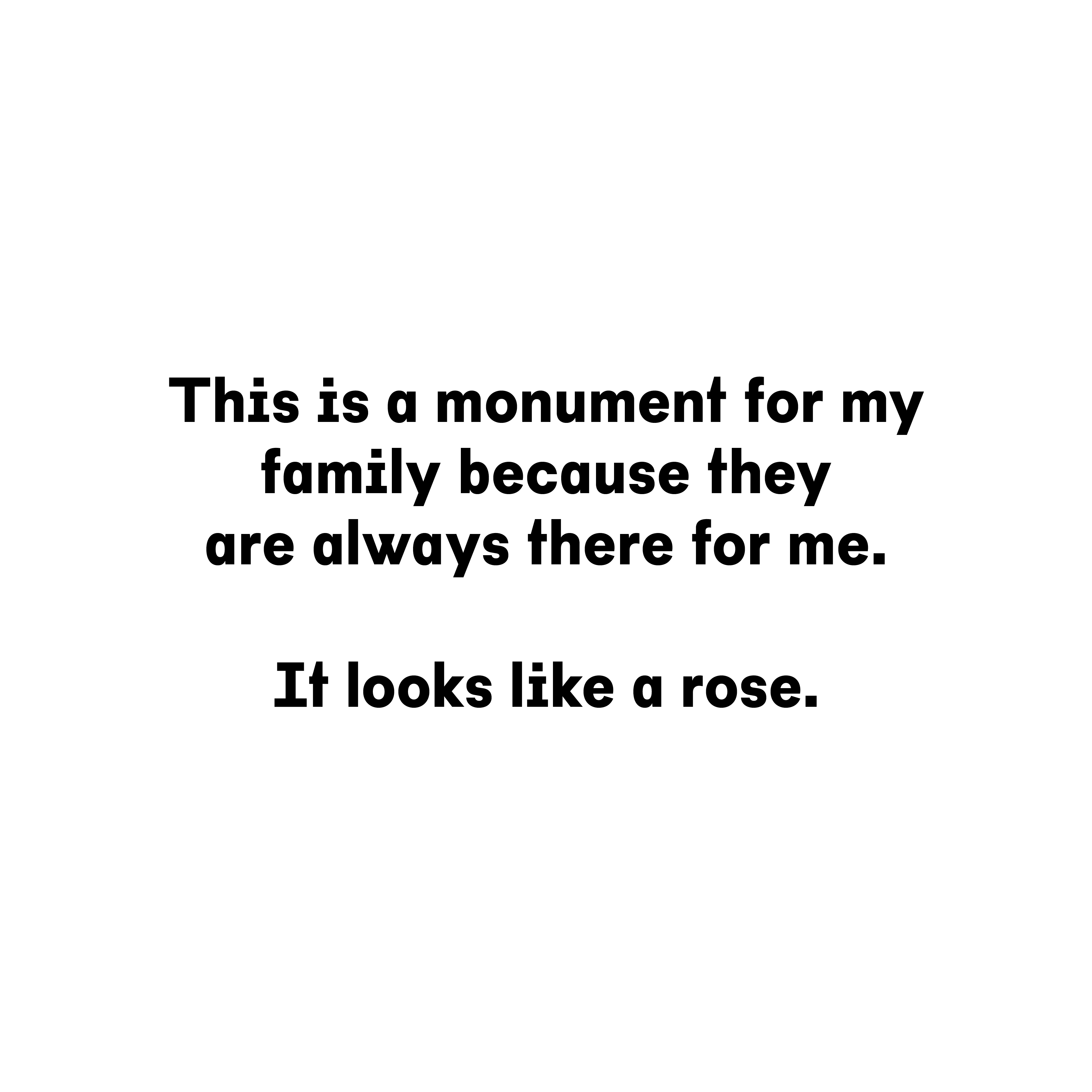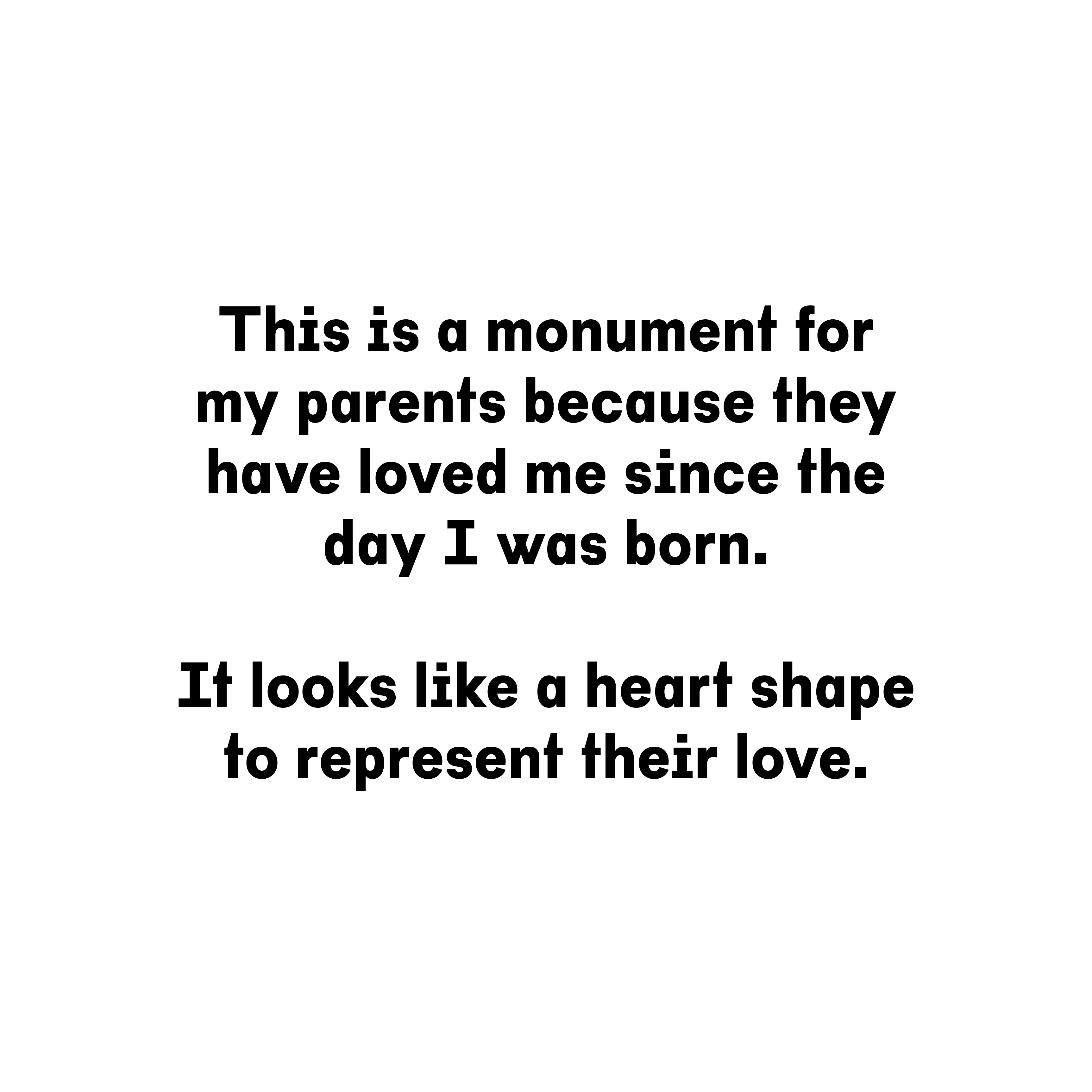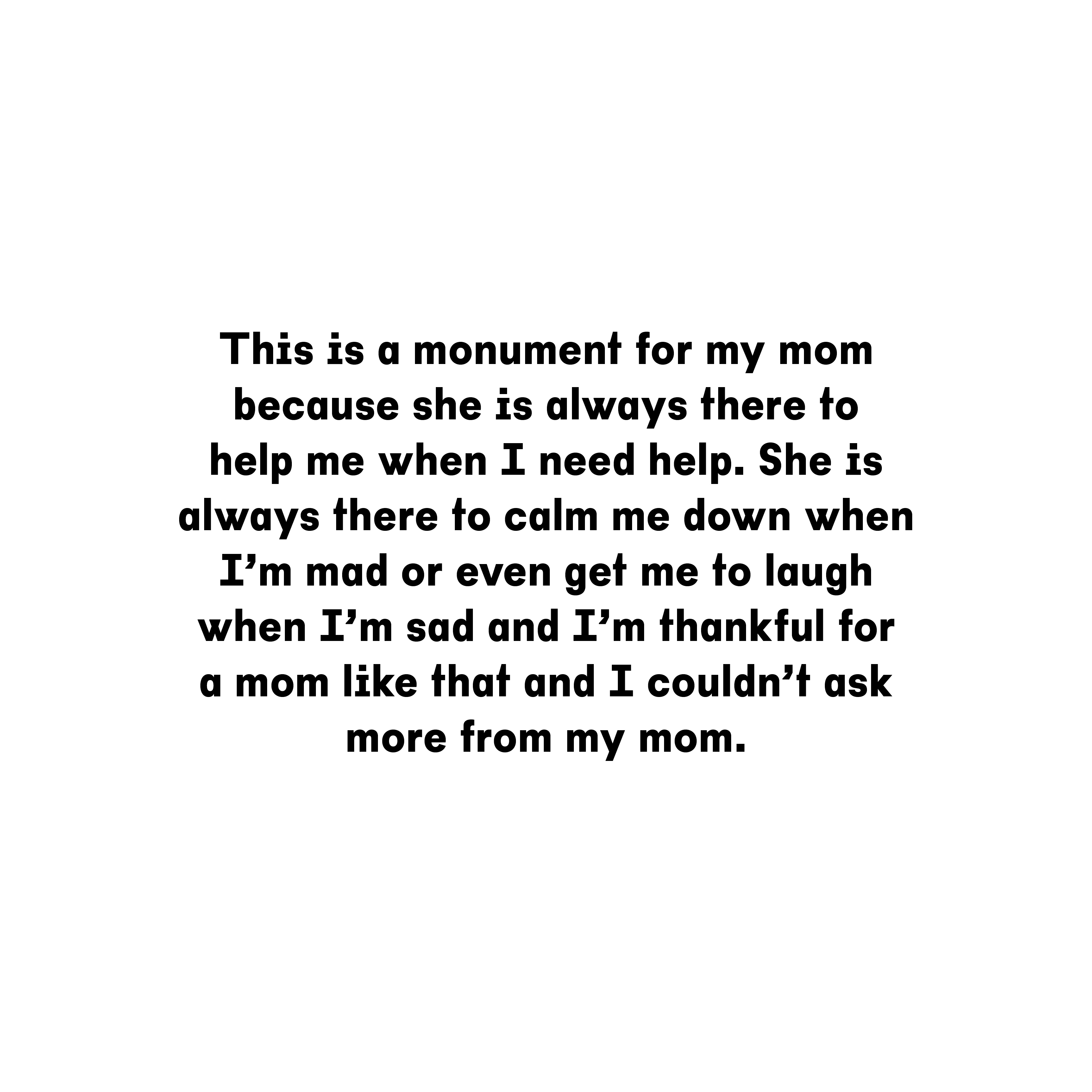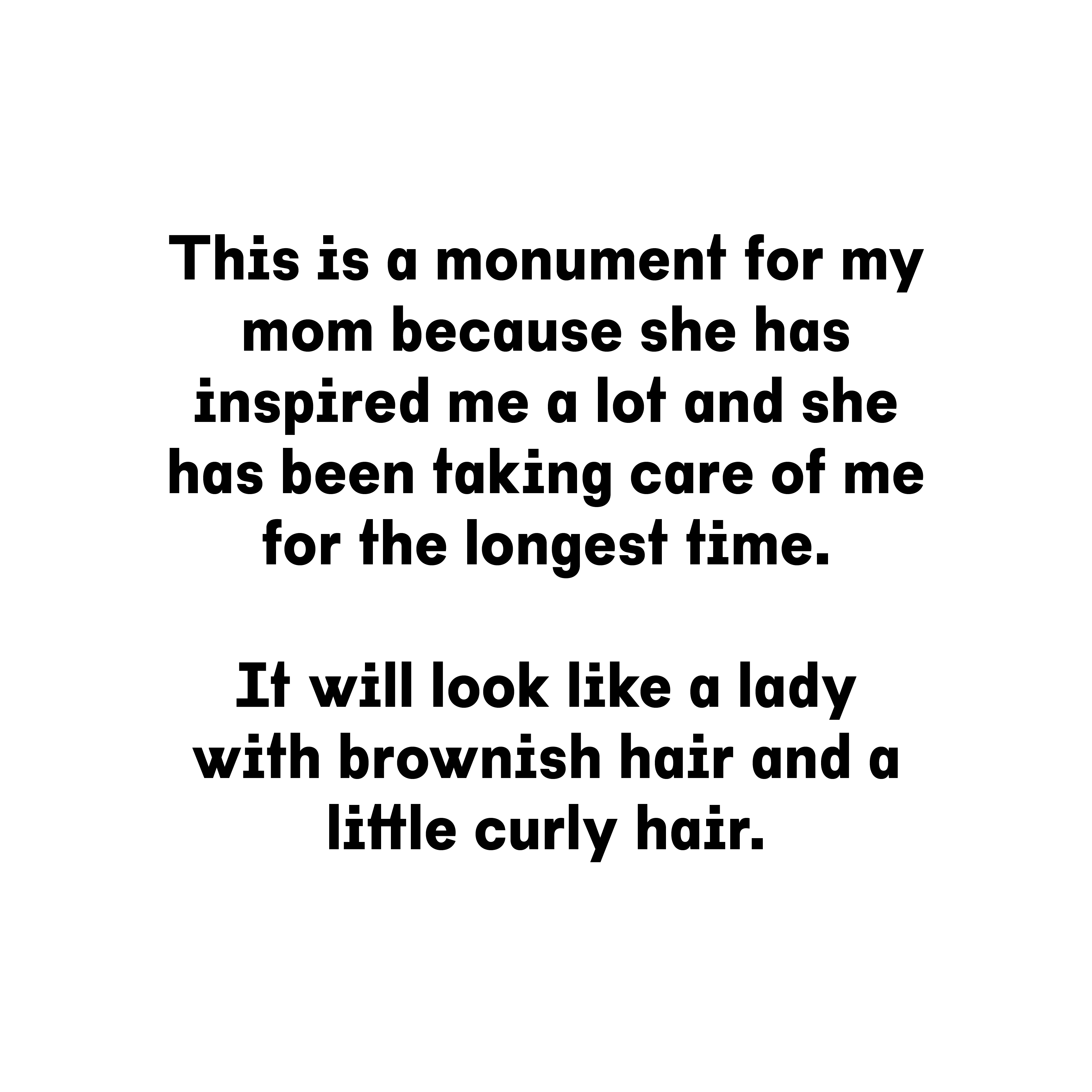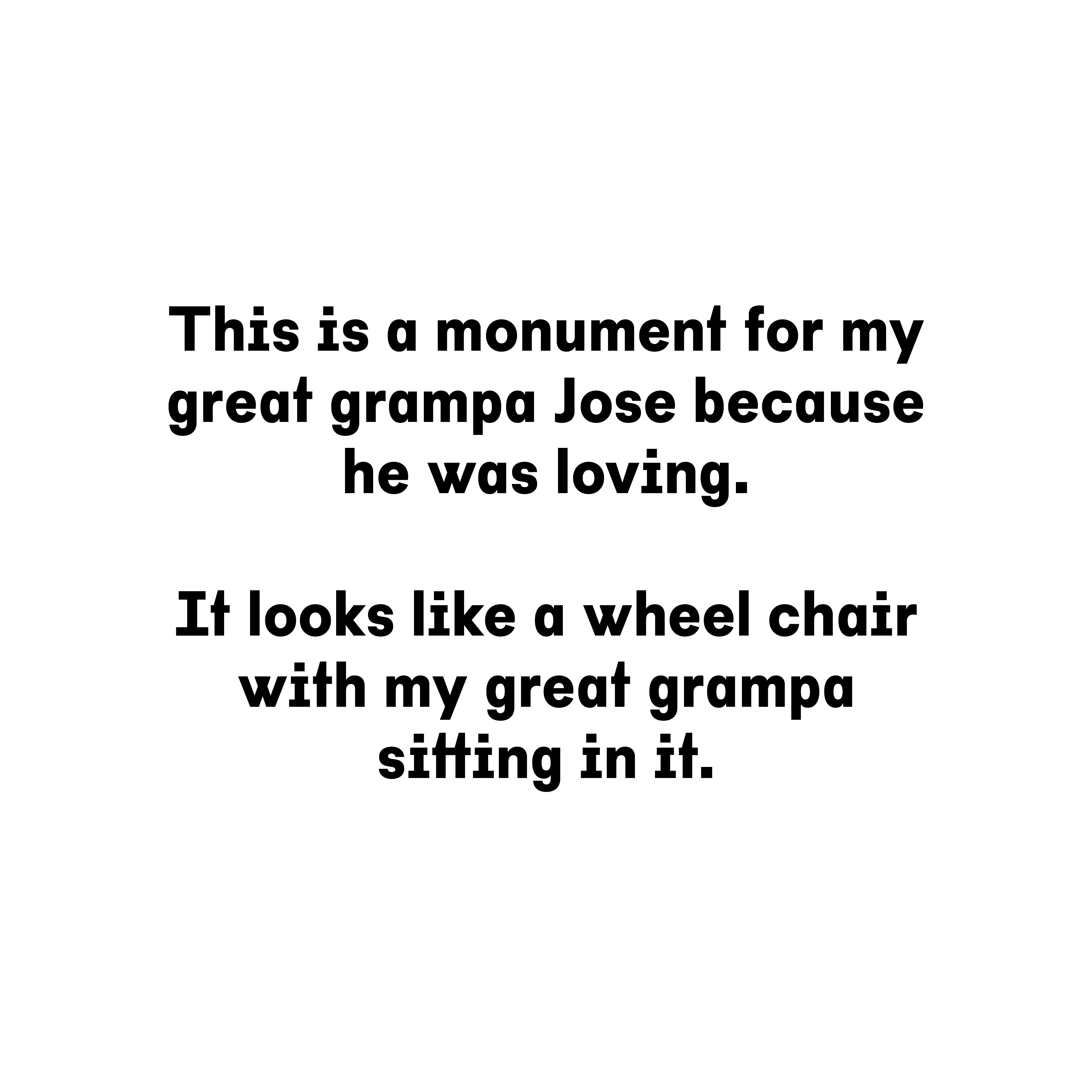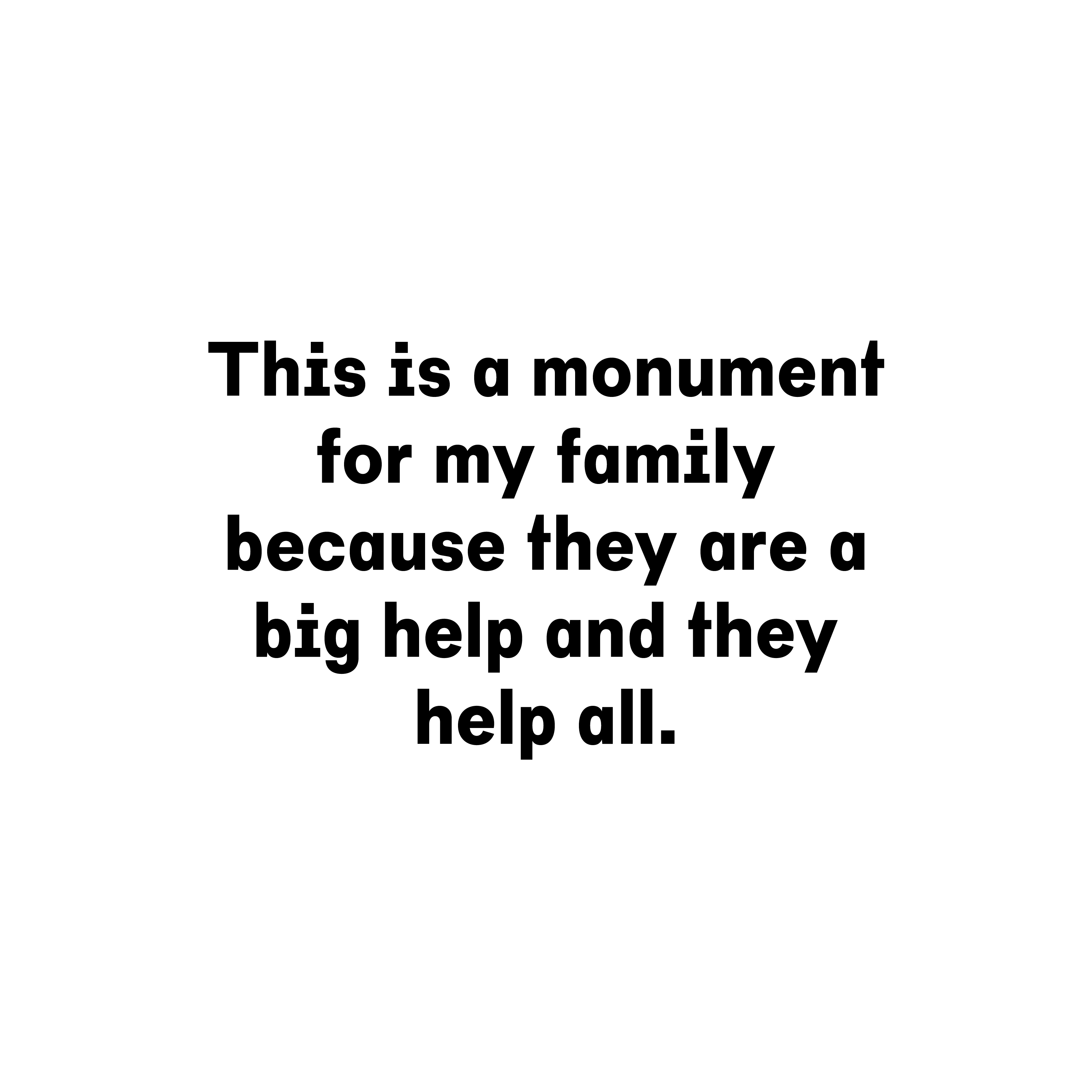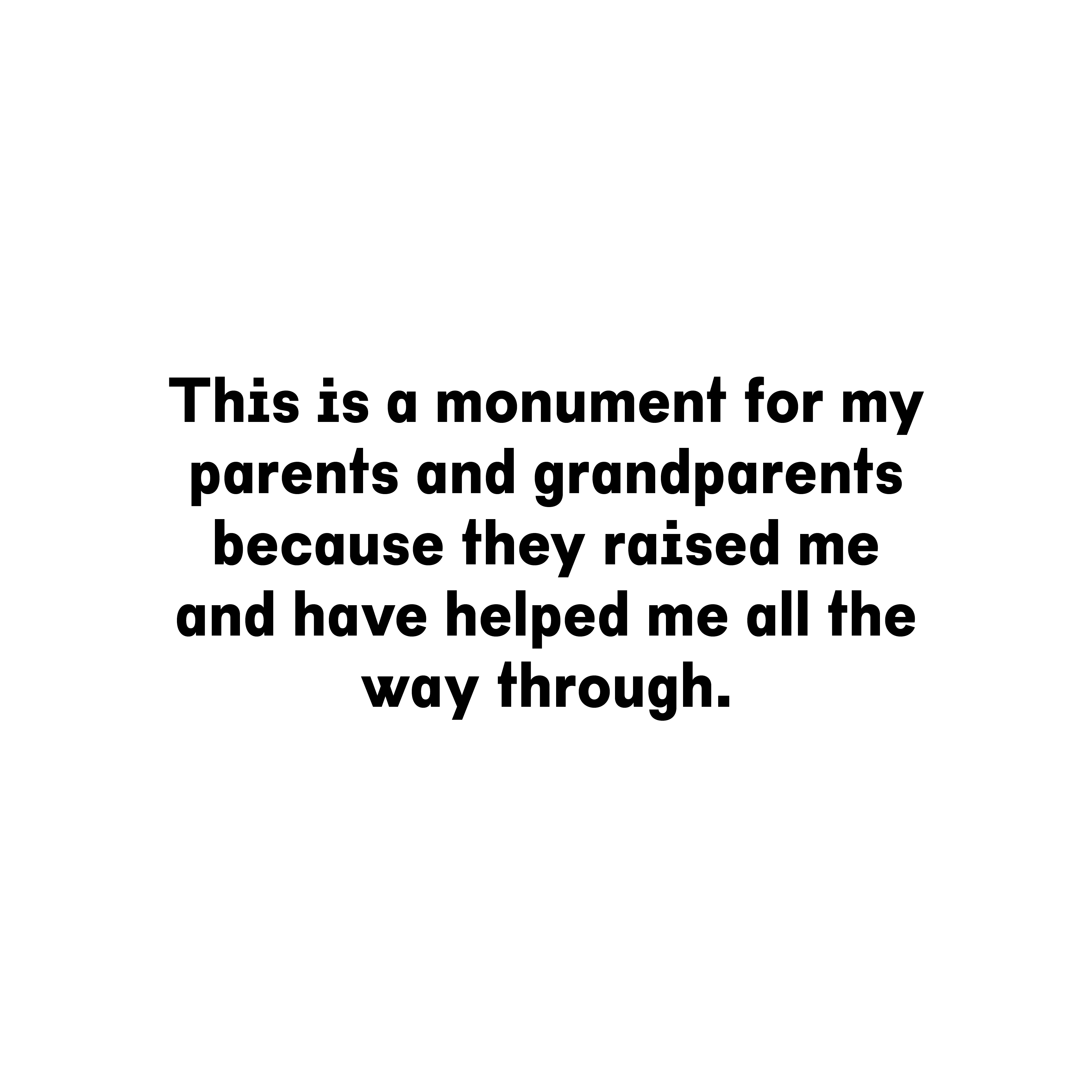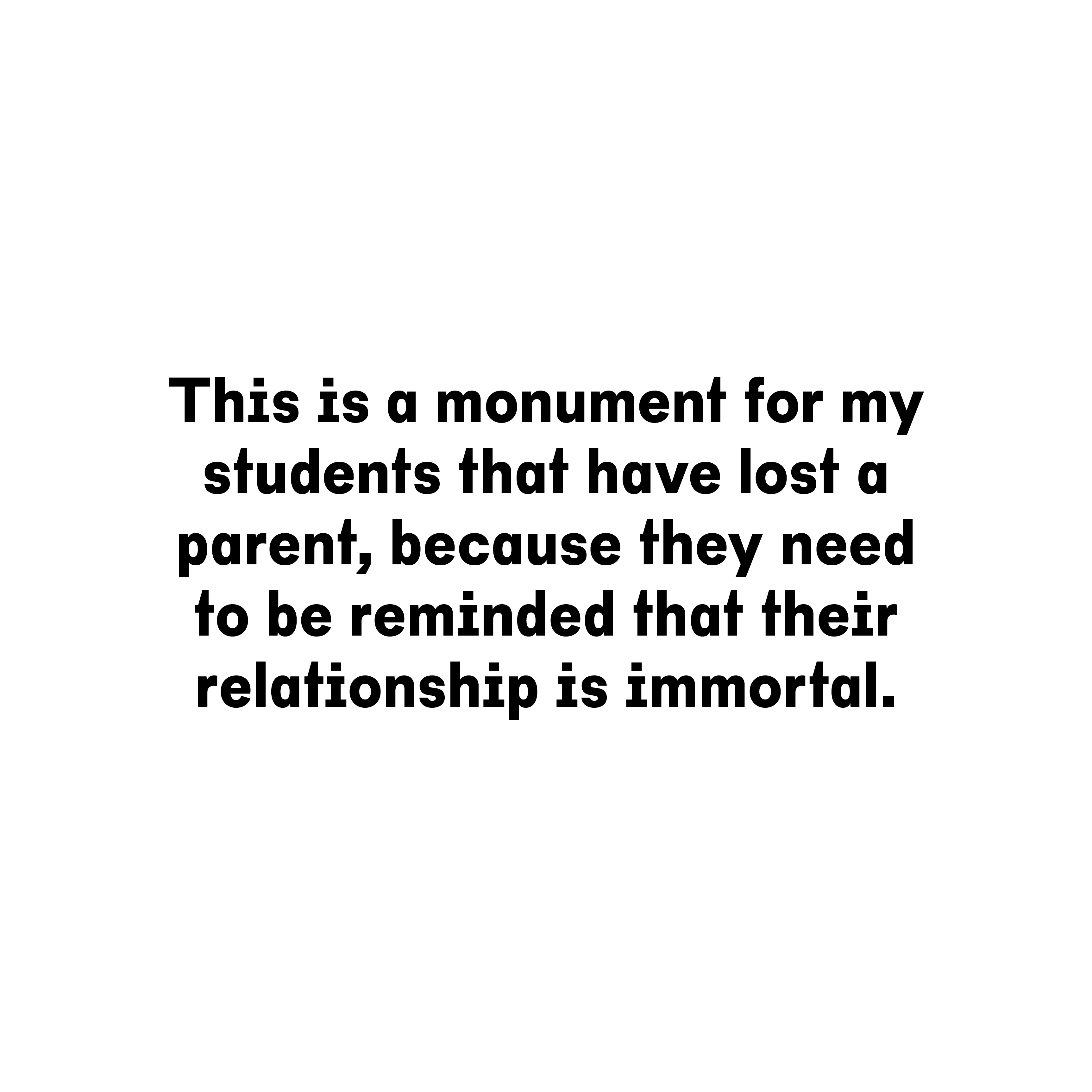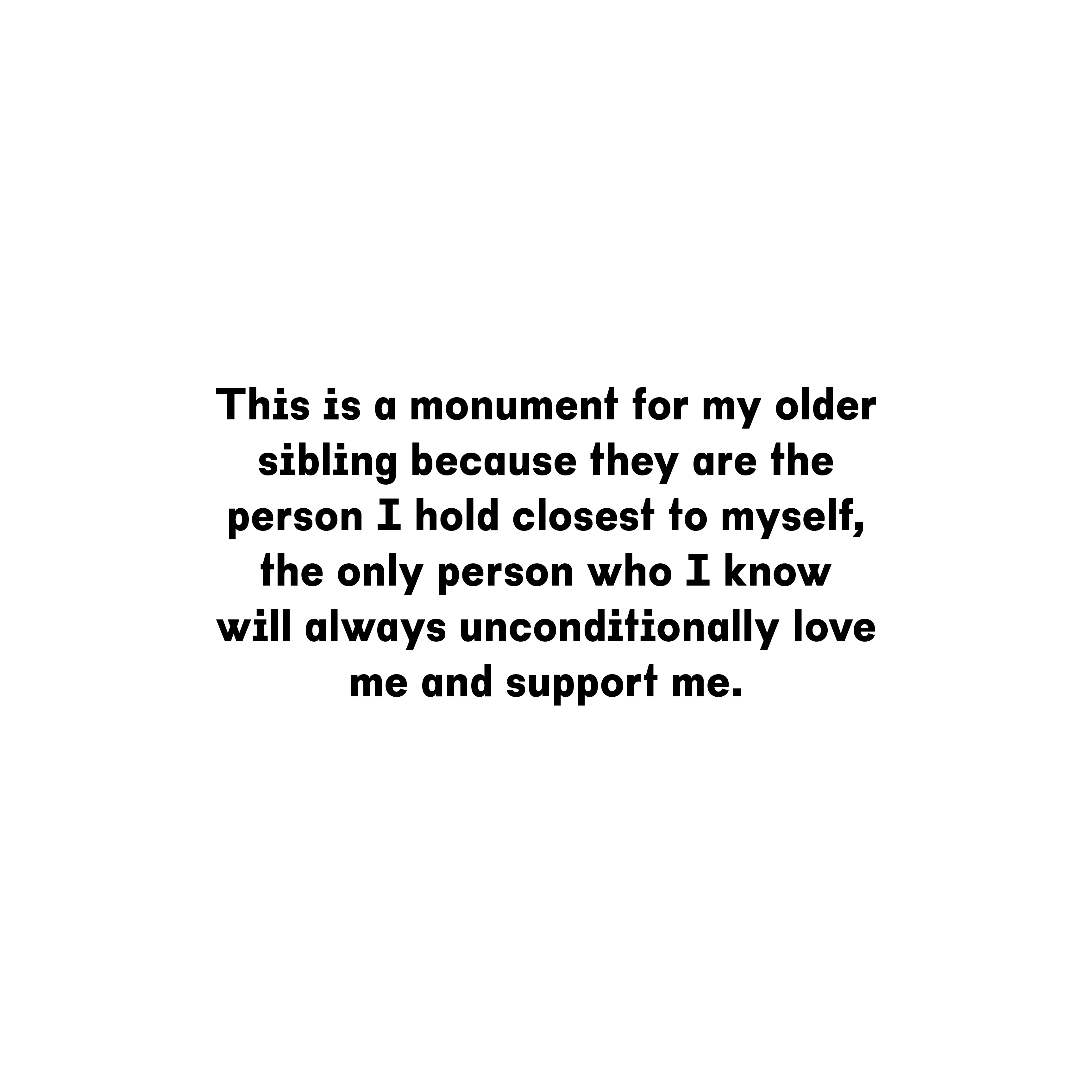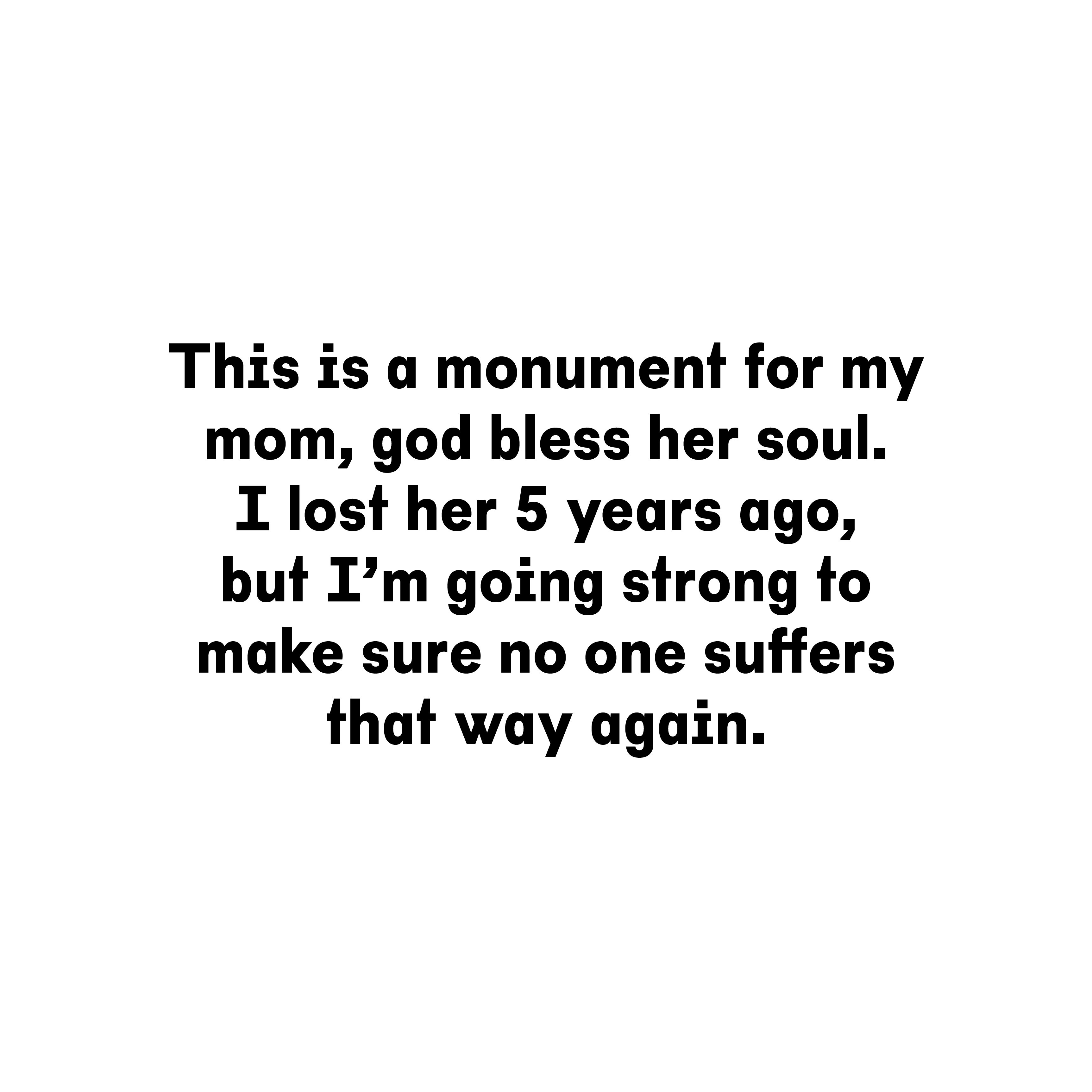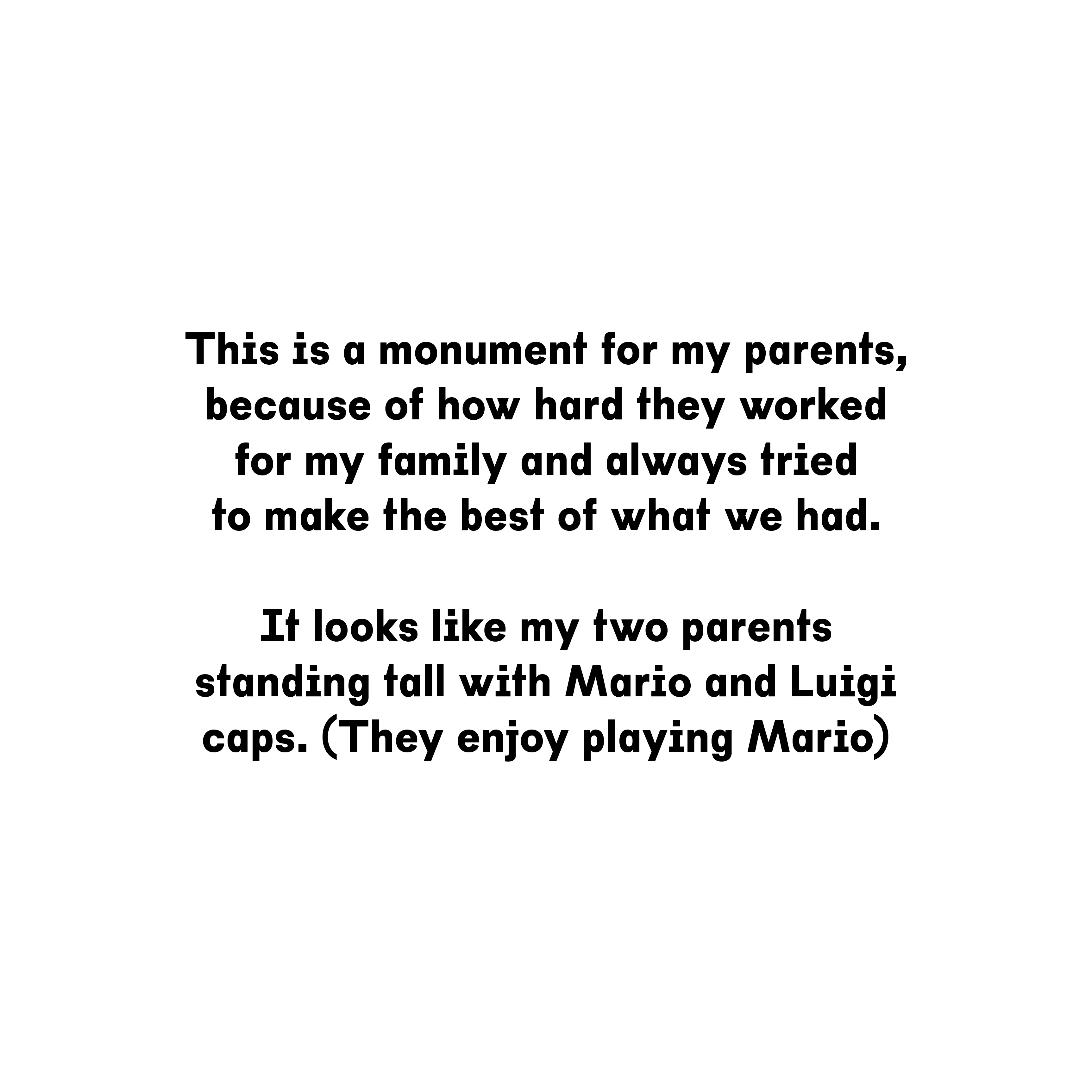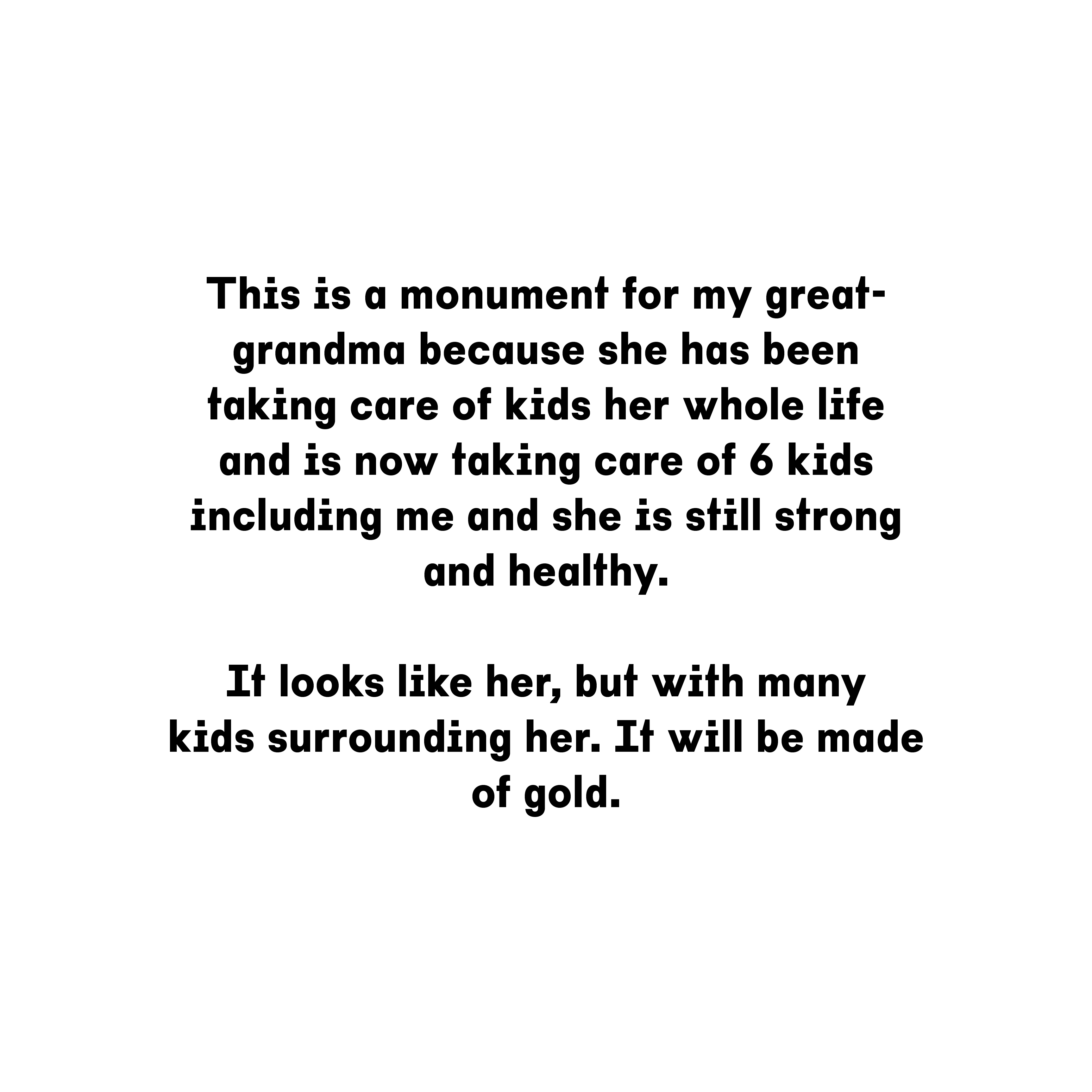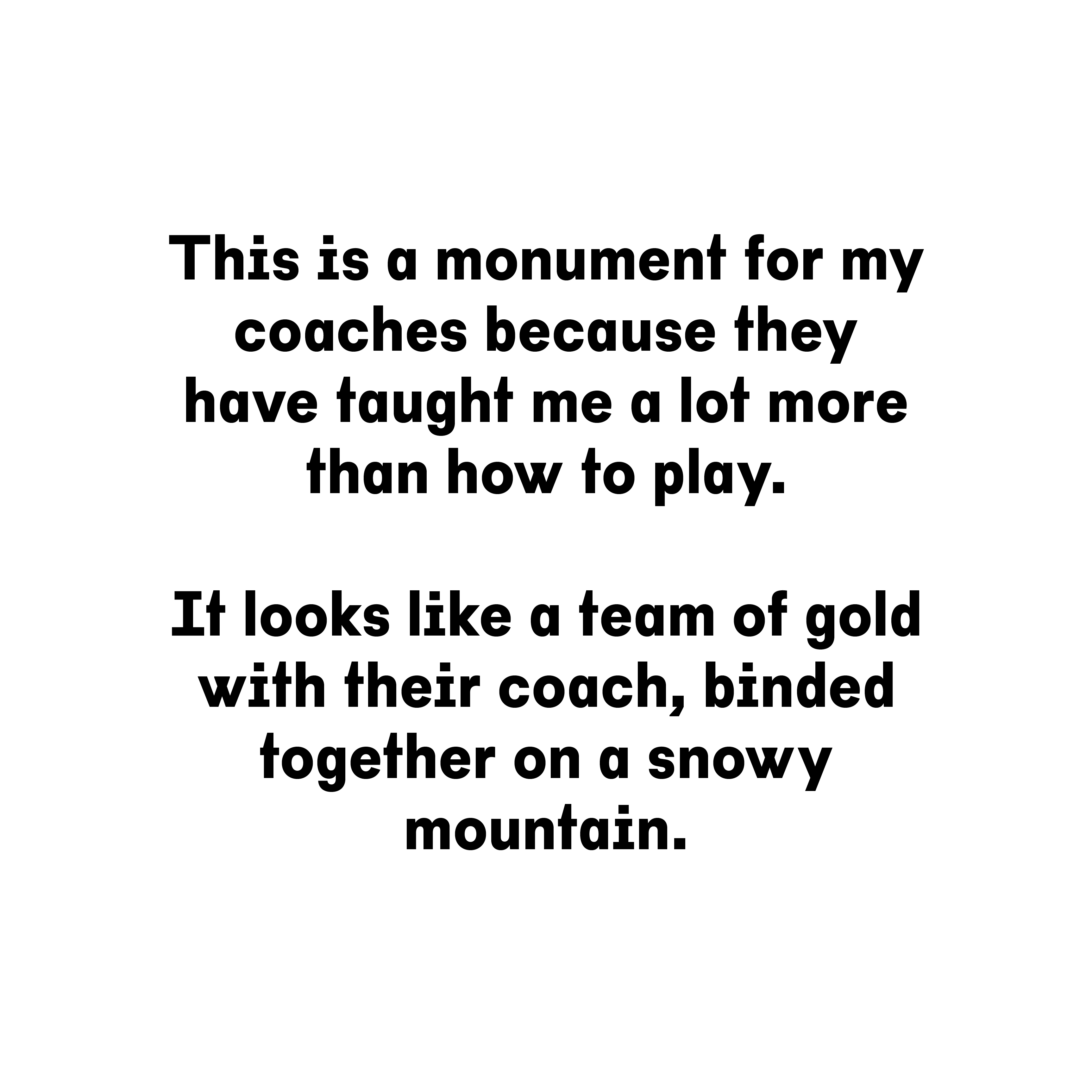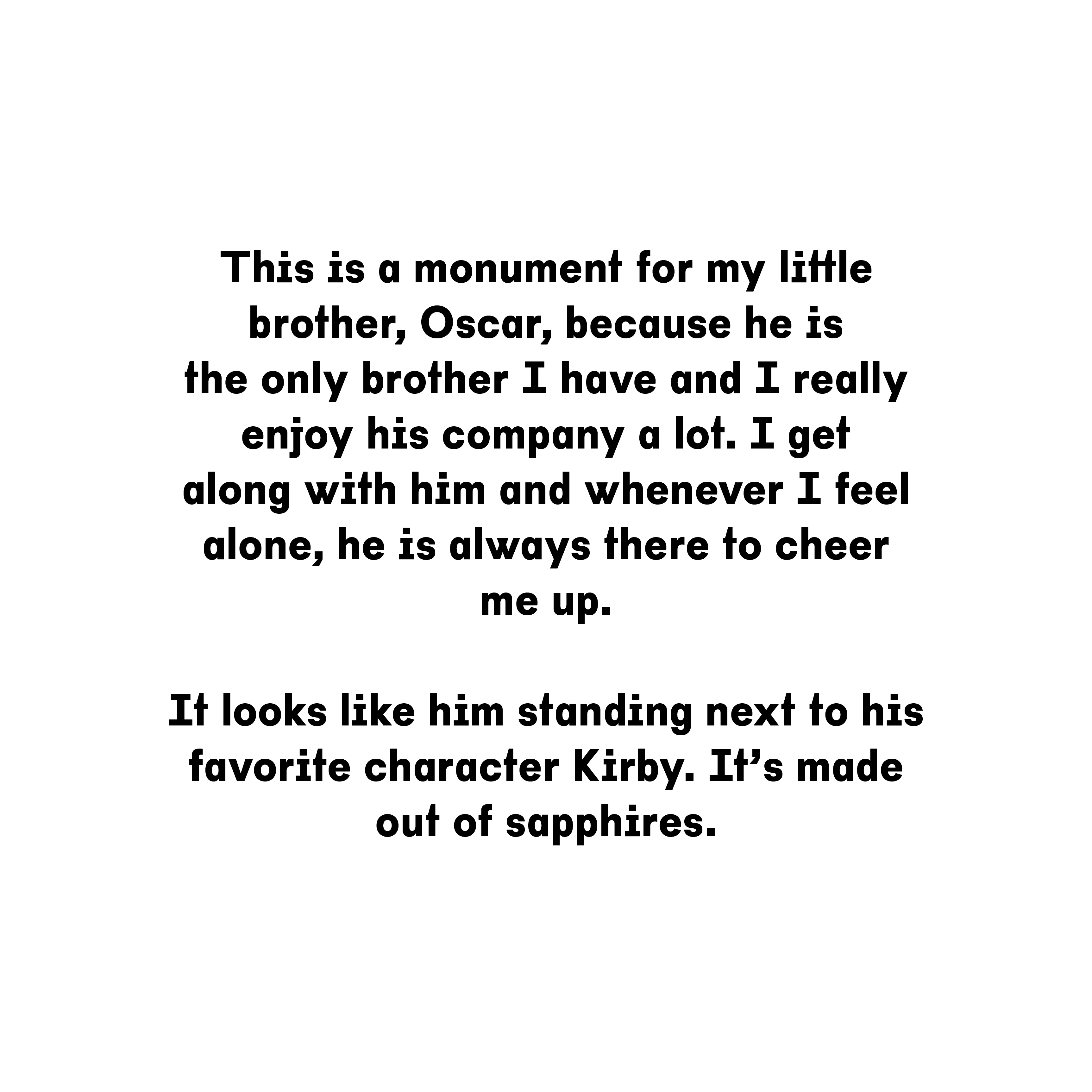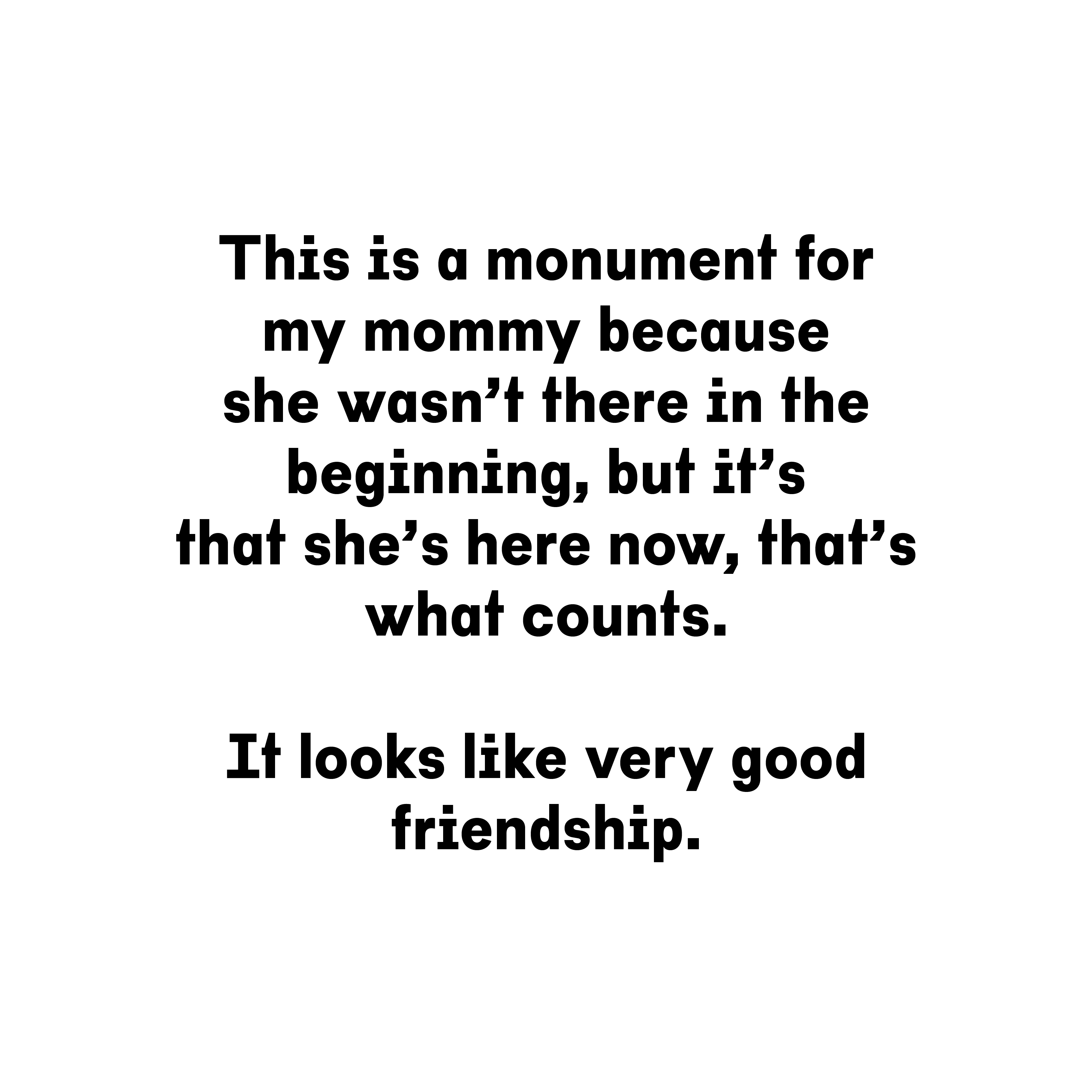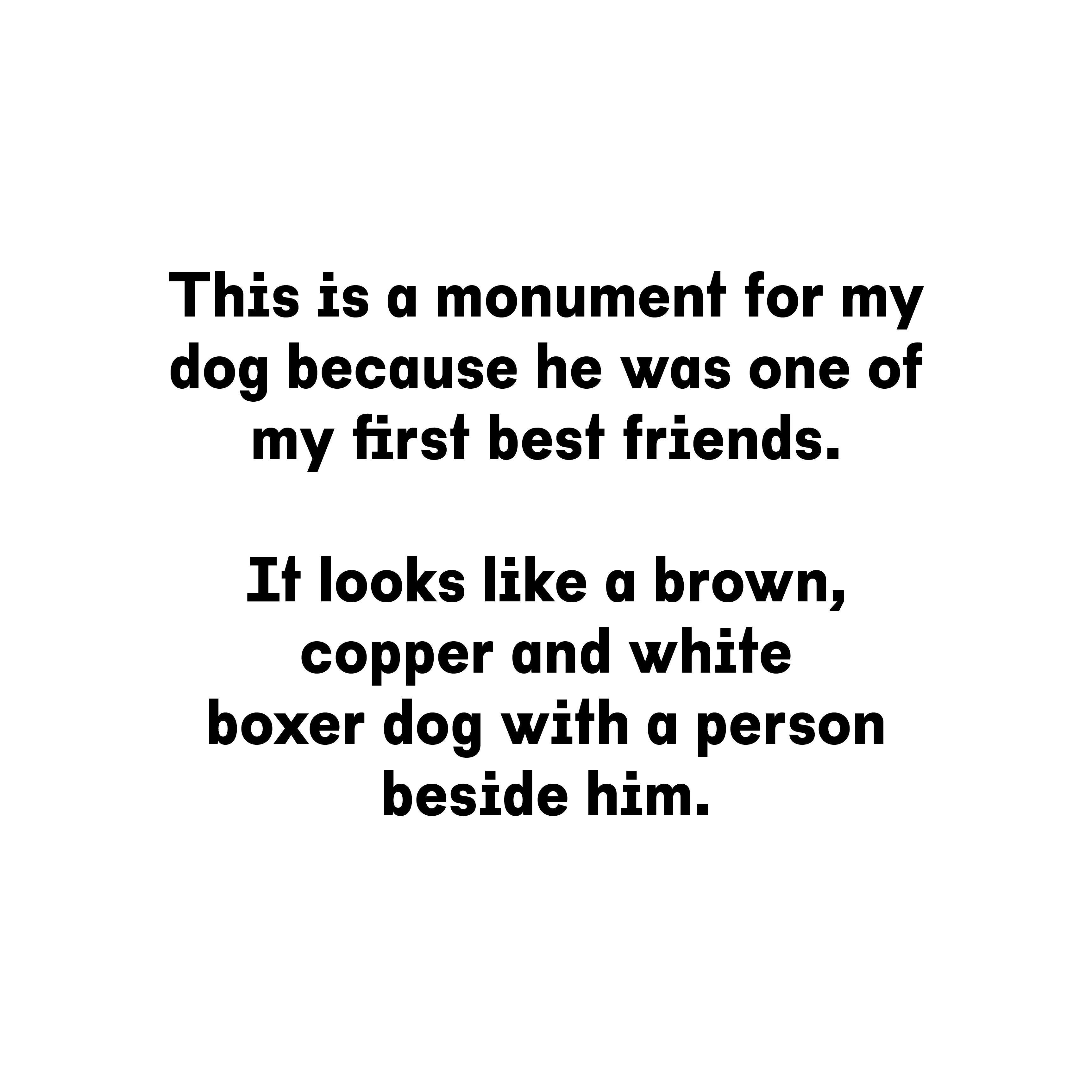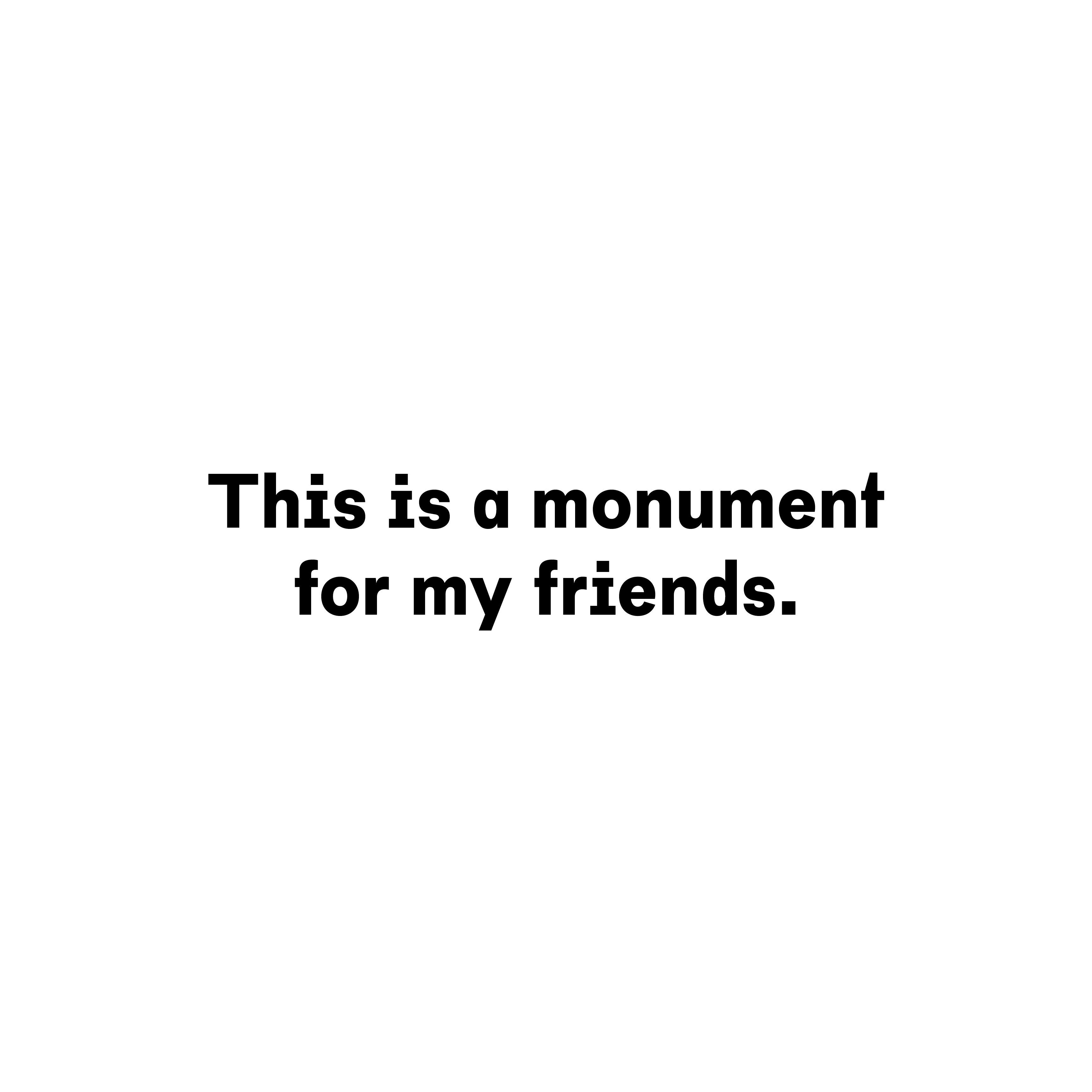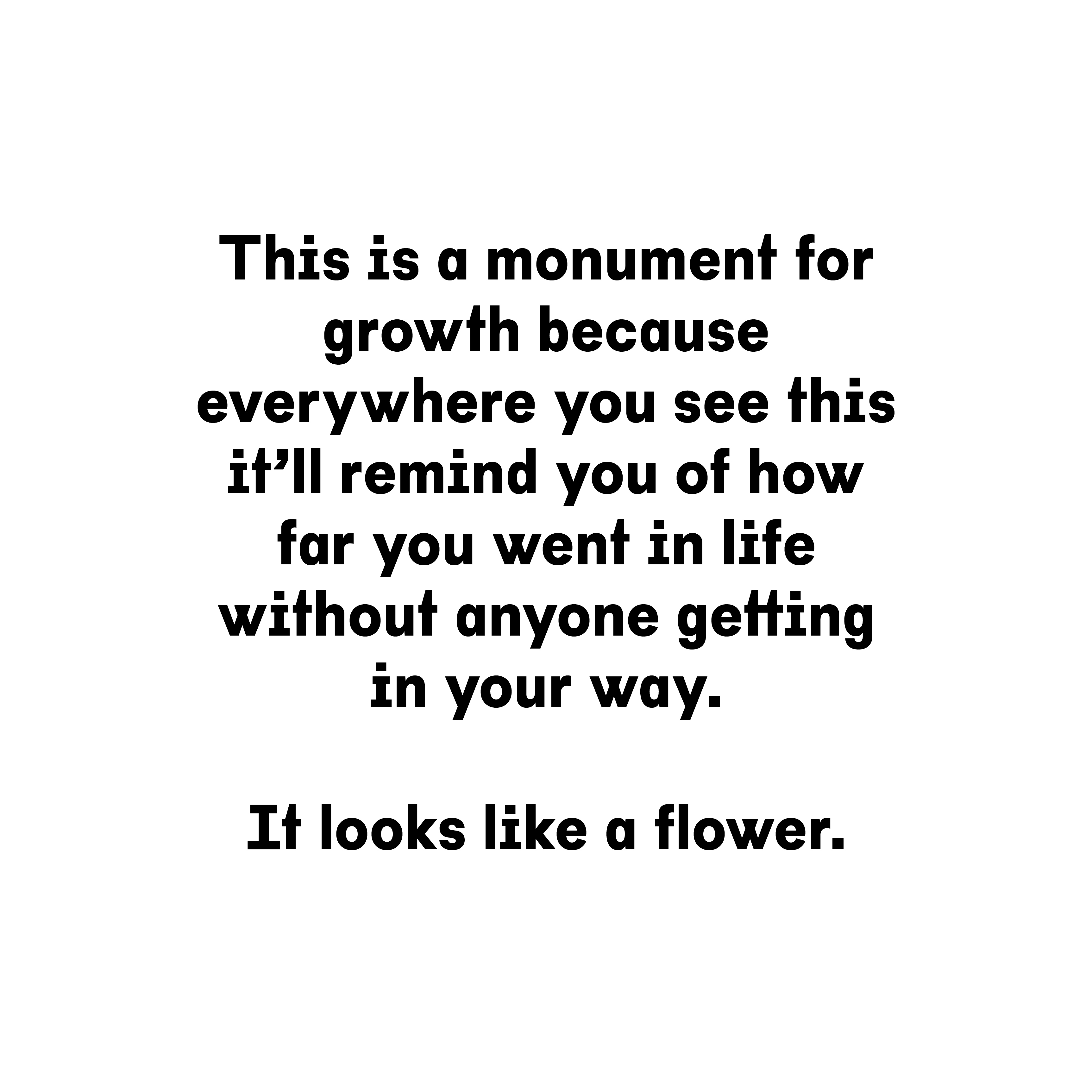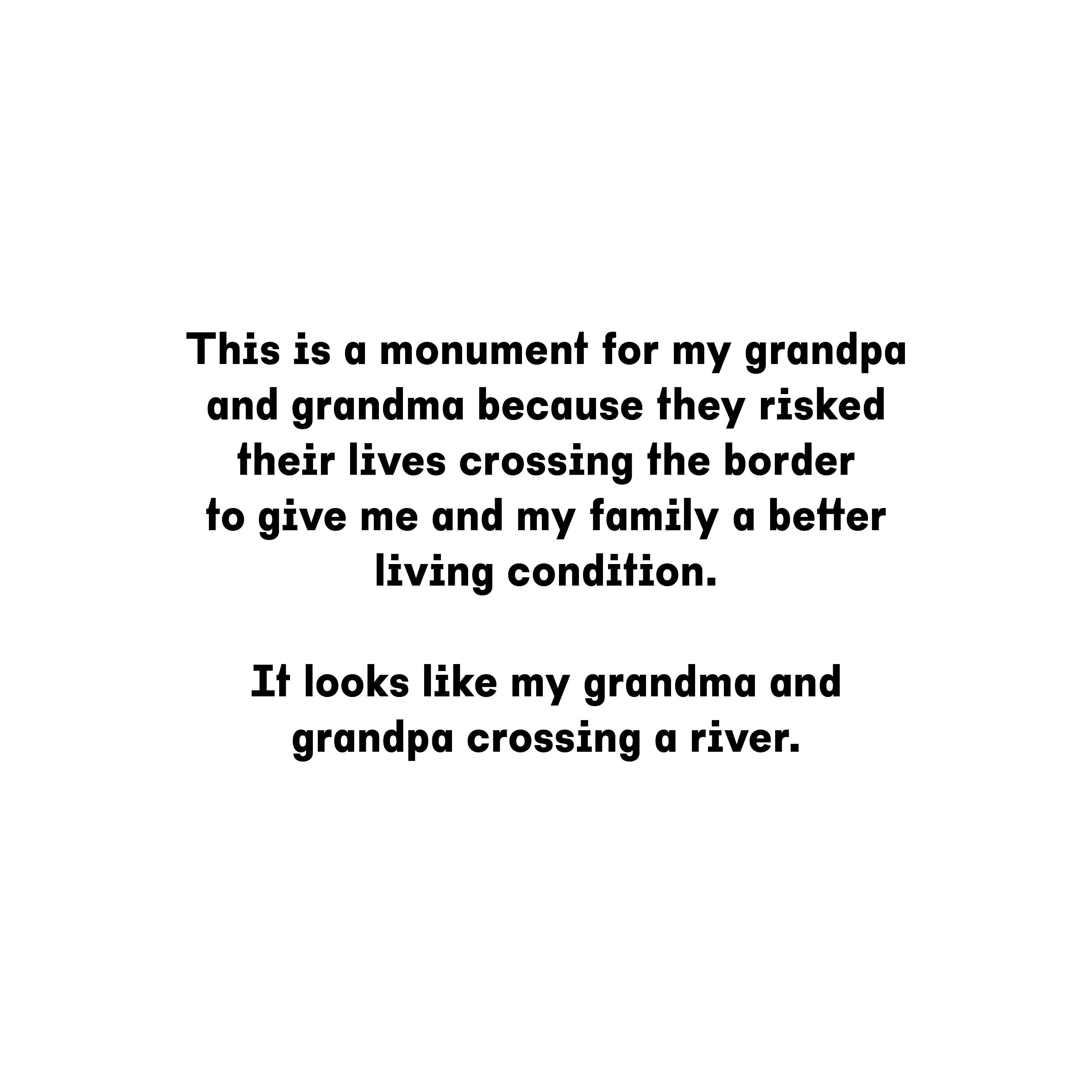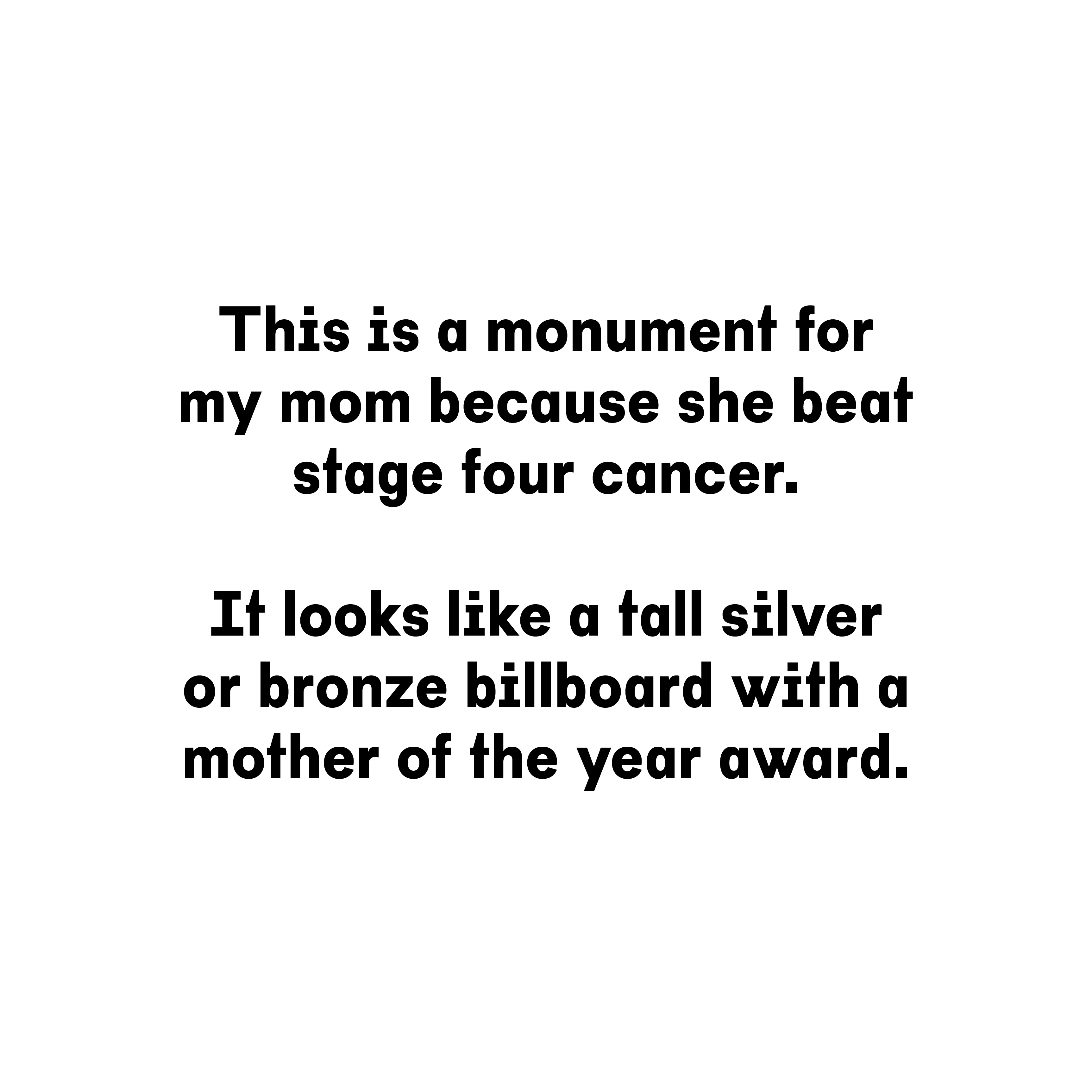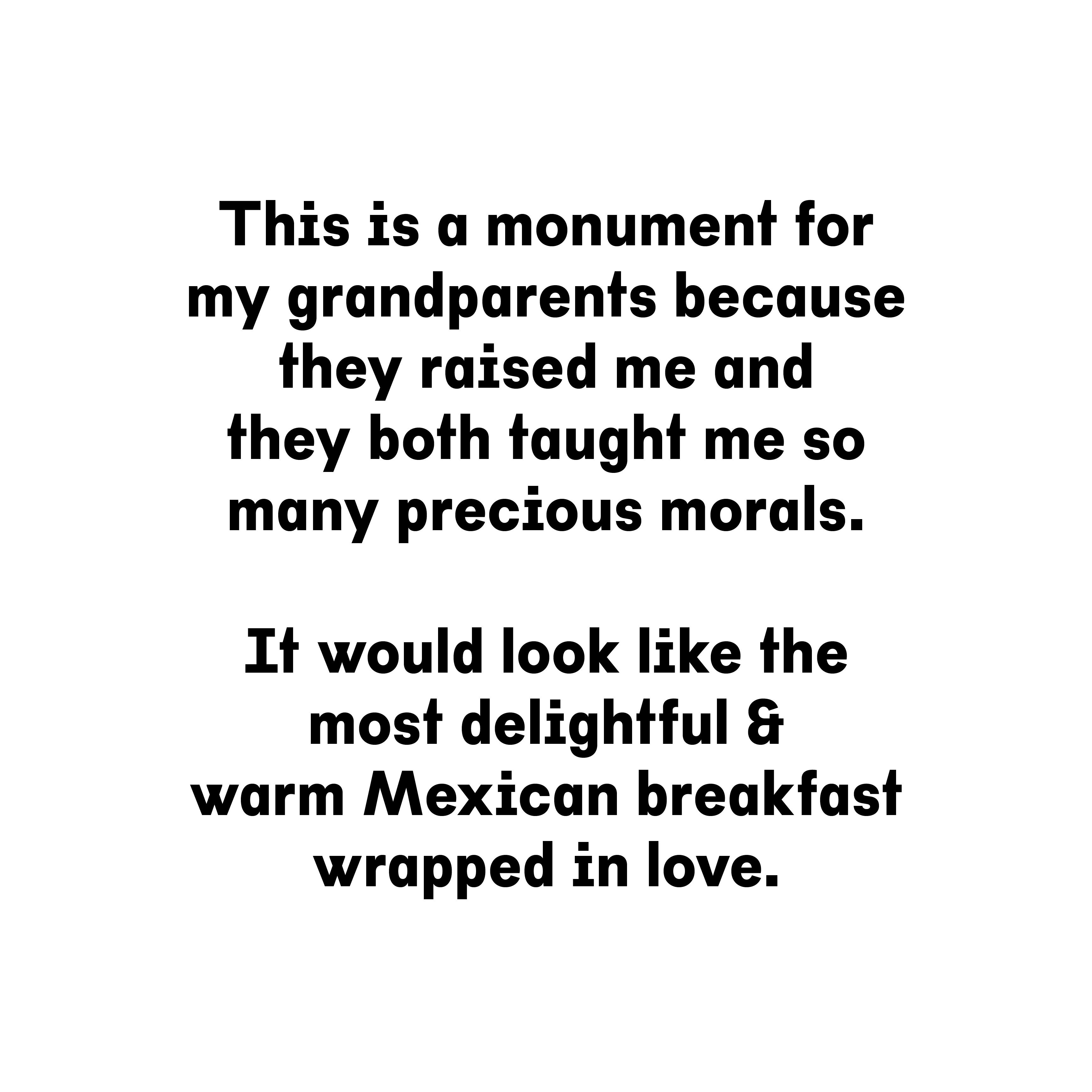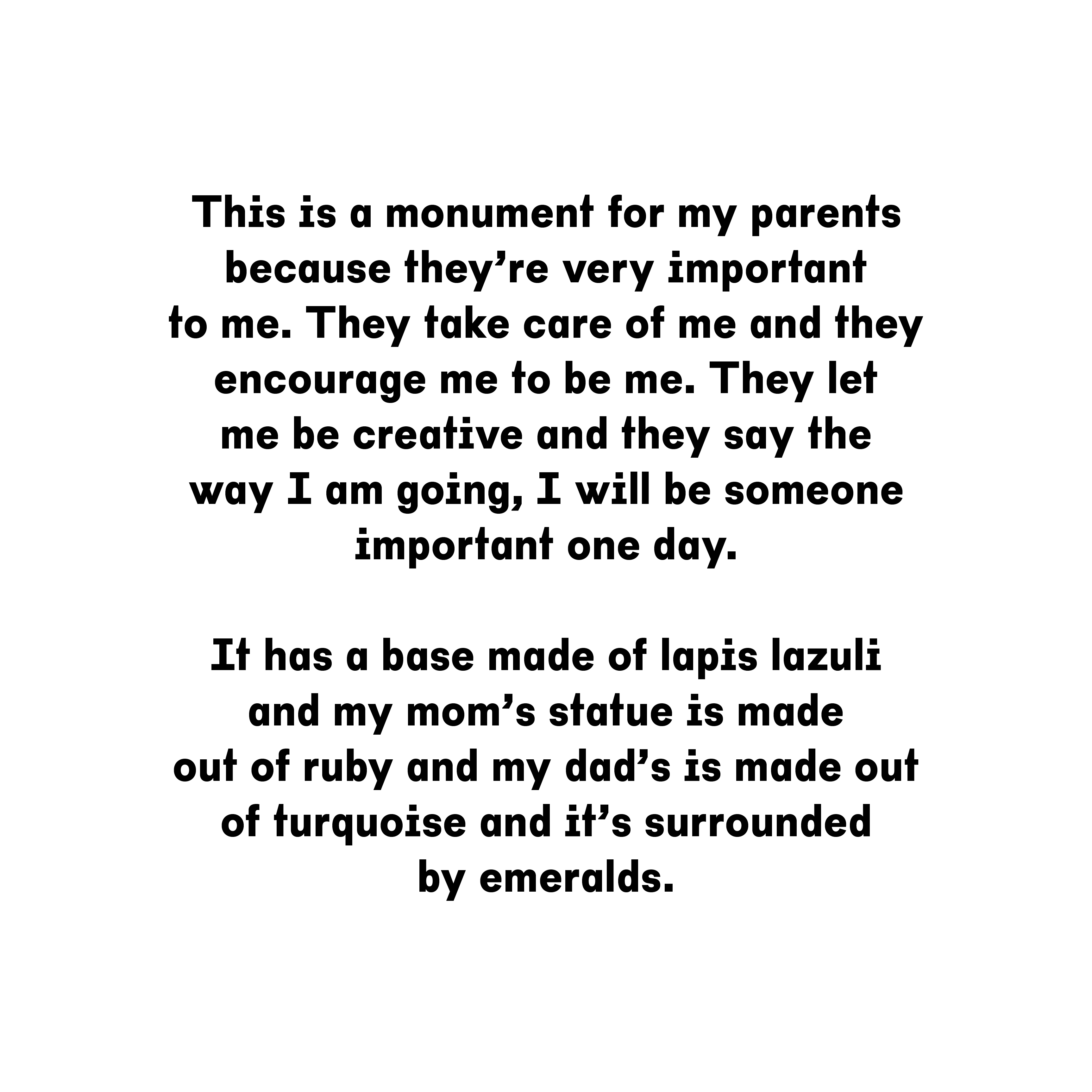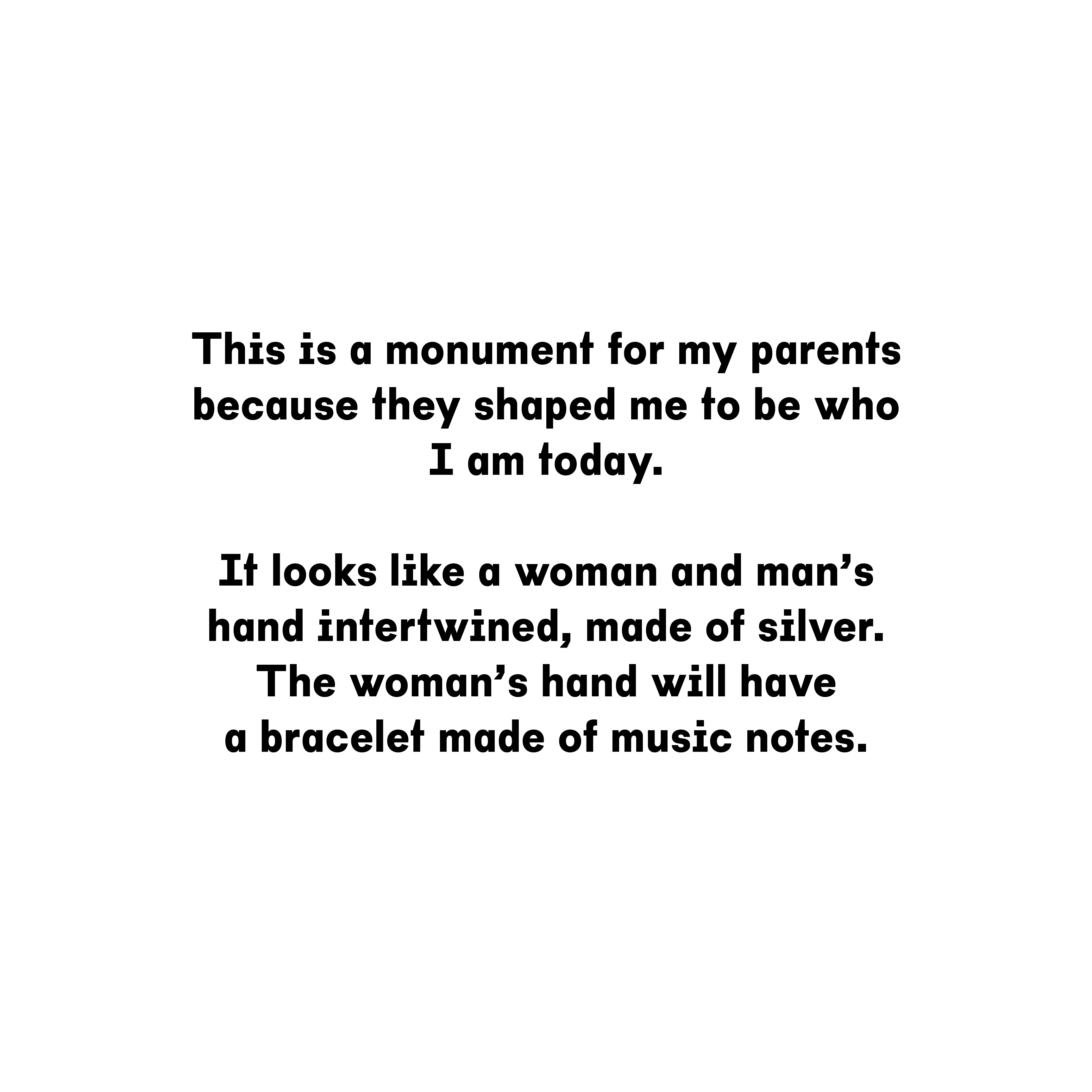 ---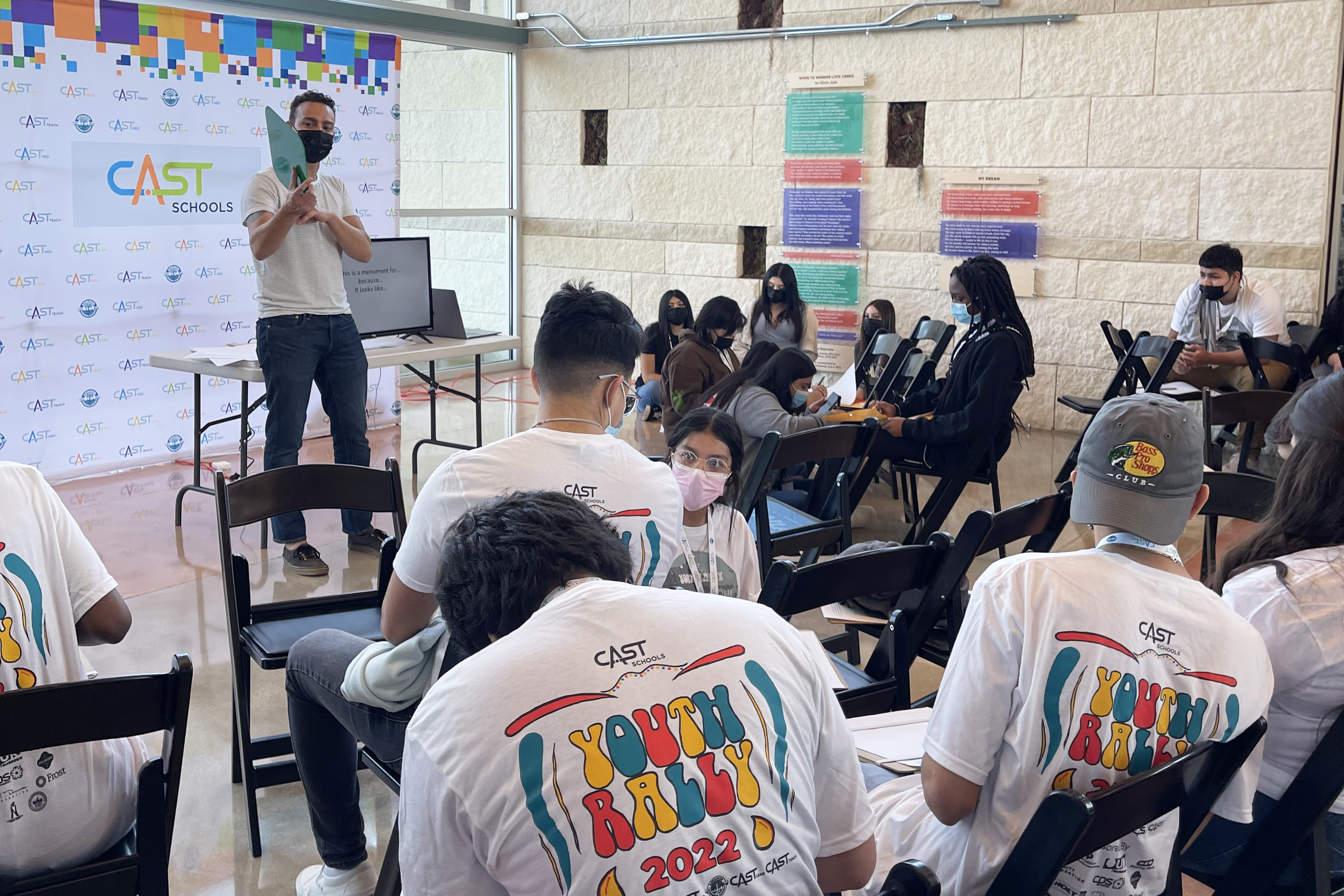 A Monument for the People
is a participatory art project that invites youth to reimagine what monuments are and who they are for in our community.
The project began in San Antonio, TX at the height of the pandemic in 2020 through workshops over ZOOM and continued with in-person worshops as gathering allowed. Participants explored the history of monuments and talked about what monuments are and who they are for. They were then invited to create a new monument for someone or something meaningful in their life.
While the work is presented on this website as text pieces, the physical installation is done through interlocking laser etched acrylic squares to form freestanding structures. The acrylic squares will eventually be distributed back to partnering schools and the project will continue to be activated through participatory projection events.
A Monument for the People
was initiated by artist
Mark Menjívar
in collaboration with the
CAST School Network
in San Antonio, TX.
Funding has generously been provided by the San Antonio Area Foundation and Blue Meridian Partners.
Thank you to Jeanne Russell, Eddie Rodriguez, Carol Mendenhall and all the other CAST School staff for their support and co-creation of this project.
Thank you to Jacob Lindgren and Tyler Rico for design help.
A special thank you to Paul Farber and
Monument Lab
for the generosity of their time and work.
For more information or for tips on how to do a version of this project in your own community, contact Mark Menjívar at mjmenjivar@gmail.com
A huge thank you to all contributors including:

James, Michael, Alex, Grant, Alexis, Grace, Augusto, Katelyn, Robert, Miles, Jacob, Adrian, Heath, Yasu, Kelson, Gilberto, Kaleigh, Giada, Jude, Diego, Jaden, John, Aeven, Payton, Christopher, Noah, Dalyssa, Christian , Andrew, Eli, Connor, Mandolin, Noah, Brooklyn, Julissa, Esmeralda, Ibrahim, Mandy, Caleb, Matilda, Jocelyn, Estevan, Webdell, Jurissalyn, Zoey, Kevyn, Aeven, Marcelo, Miranda, Brooke, Ashley, Kevyn, Christian, Sean, Emily, Eleanor, Elias, Sean, Martina, Daniel, Leandro, Shashank, Caroline, Kimberly Rose, Isabella, Julius, Yasmin, Daniel, Taija, Mayra, Jaime, Nicolas, Bradley, Aiden, Julian, Mary, Sebastian, Gabryelle, Angel, Reyna, Balito, Haidi, Abraham, Kaytlyn, Adam, Motasim, Princess, Liz, Juan, Hope, Natasha, Sara, Ryan, Anabella, Angie, Irene, Zoe, Alyssa, Allison, Zach, Miguel, Diego, Sofia, Denisse, Izzy, Julen, Kaleigh, Minerva, Bella, Sophia, Diego, Jennifer, Arabelle, Huruma, AIleena, Monserath, Mariana, Anthony, Brandan, Stephanie, Andrew, Lance, Naomi, Estephanie, Jazmin, Victor, Charles, Amadeus, Ismael, Seth, Ashley, Xzavier, Rowan, Jaymes, Kay, Elise, Alicia, Rain, Tiffany, Einalei, Maeve, Leni, Juliana, Nathaniel, Caiden, Rylan, Isla, John, Hailey, Randy, Cinthia, Jaelyn, Hero, Isabella, Copper, Jessie, Eilan, Anna, Ahmir, Tatiana, Sue, Elizabeth, Melodie, Lily, Zaely, Leeloo, Ella, Ary, Jude, Adrian, Natalie, Aaliyah, Sloan, Leni, Owen, Randy, Chantelle, Kajah, Trevor, Gabriela, Ela, Maeve, Jimmy, Luke, Alexander David, Andrew, Brittany, Catalina, Anthony, Carlos, Zoia, Esai, Wendy, Eliana, Karla, Jose, Carlos, Allen, Victoray, Derek, Dalearushion, Xavier, Jose, Natalia, Joshua, Eve, Ryan, Aiden, Luis, Stephanie, Jason, Anahi, Jesus, Kayla, Jasmon, Noah, Damon, Adan, Alanna, Mariana, Ruth, Nehemiah, David, Victor, Alex, Autumn, Jennifer, Thai, Christian, Izaac, Jiveth, Alicia, Destiny, Alex, Carlos, Matthew, Priscilla, Gwen, Jaymes, Jon, Estephanie, Min, Sebastian, Karina, Cristian, Daisy, Rhianna, Nicholas, Huruma, Espernaza, Ismael, Xavier, Kendall, Patino, Kendall, Jose, Saira, AJ, Honor, Landon, Mya, Albert, Amaya, Nathan, Isaiah, Luis, Benjamin, Ashley, Adolfo, Brianna, Larisa, Destiny, Angel, Zoia, Kendall, Geroge, Anthony, Brianna, JP, Miguel Anthony, Robert, Zoe, Jacob, Daniel, Kaylee, Nathan, Isabella, Tulip, Xavier, Kendra, Andrea, Truth, mandy, Anthony, Matthew, Audrie, Ruac, Yileana, Jacob, Isabella, Dylan, Ethaniel, Liliana, Gabriella, Alfonso, Symfini, Joe, Sophia, Leona, Carol, Natalia, Robert, Landon, Elizabeth, Katerin, Jaleisha, Mia, Julian, Priscilla, Fernando, Jesus, J'sharcla, Joshua, Hugo, Mathew, Julian, Caydec, Ruben, Daniel, Liliana, Max, Carlos, Alanis, Tristan, Marco, Daniel, Darian, Sabatian, Juan, Victor, Kevyn, Emma, Cameron, Nathan, Arthur, Lynda, Adan, Azul, Izamar, Ginsere, Zenobia, Nicholas, Honor, Jonathan, Katherine, Adrian, Sebastian, Noah Ian, Ariana, Isabella, Victor, Arissa, Jalen, Alejandro, Arturo, Dettogee, Huruma, Aileena, Elijah, Angel, Aiden, Kayden, Sean, Alicia, Priam, Andrew, Pedro, Isaiah, Julydia, Sebastian, Joshua, Berkley, Rei, Rica, Carolina, Caitlyn, Jeslyn, Rene, Nicolas, Shayla, Damond, Marco, Emiliano, Insha, Daniel, Brandan, Melody, Esther, Sonya, Estefanie, Maddy, Gabrian, Stephanie, Deborah, Garielle, Kevin, Edward, Kaytelynn, Alycia, Reyna, Liana, Nick, Carzita, Victoria, Ruby, Luke, Jaime, Moises, Jathyn, Sebastian, Sofia, Yliana, Monserath, Sahara, Carmela, Allina and Elijah.